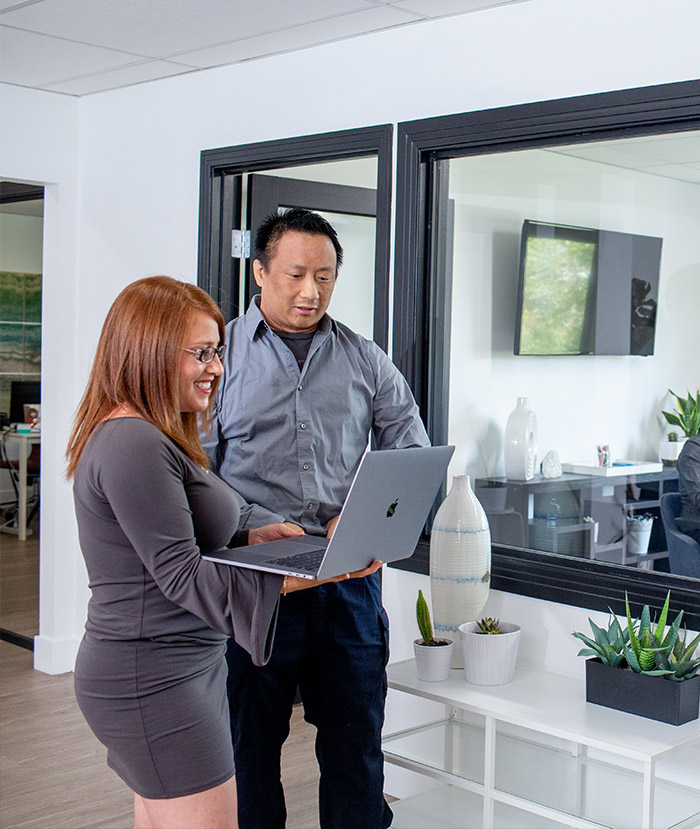 Goldman Marketing Group works
exclusively in the healthcare industry.
Serving B2C and B2B, our clients range from private medical practices, PE-backed healthcare groups, surgery centers/hospitals, as well as pharmaceutical, skincare, and device companies. We have a special area of expertise in dermatology and plastic surgery, as well as B2B clients in the healthcare space.
Although our roots are in dermatology and cosmetic surgery, we have vast experience in almost every medical specialty including otolaryngology, gastroenterology, urology, orthopedic surgery, colorectal surgery, general surgery, thoracic surgery, podiatry, rheumatology, oculoplastic surgery, facial plastic surgery, ophthalmology, dentistry, periodontology, maxiofacial surgery, obstetrics and gynecology, reproductive endocrinology, pain management, neurosurgery, anesthesiology, bariatric surgery and spine surgery.
As we generally do not work with any clients who may compete, our clients span across the US and internationally, and the list below encompasses many of our current and past clients.
LET'S TALK
Renuance
Plastic Surgery & Med Spa
Murrieta, CA
https://www.renuance.net/
SkinCeuticals
#1 Physician Dispensed Skincare
Paris, France
https://www.skinceuticals.com
Solta Medical
Fraxel, Thermage, Clear + Brilliant
Bothell, WA
https://www.solta.com/#home
COSMETIC LASER DERMATOLOGY
Goldman, Butterwick, Groff, Fabi and Wu
San Diego, CA
https://clderm.com/
West Dermatology
Dermatology Pratice with 22 Locations
California, Nevada, & Arizona
https://westdermatology.com
Laser & Skin Surgery Center of New York
Dermatology Practice
New York
https://www.laserskinsurgery.com/.com
PHILIP MILLER, MD
Facial Plastic Surgery in New York, NY
New York, NY
http://www.drphilipmiller.com/
Jonathan Kulbersh, MD
Carolina Facial Plastics
Charlotte, NC
http://carolinafacialplasticsurgery.com
NavaDerm
PE-backed Dermatology Group
New York & New Jersey
https://www.navaderm.com
Platinum Dermatology Partners
PE-Backed Dermatology Group
California, Nevada, Arizona, & Texas
https://www.platinumderm.com
Rion Aesthetics
Exosomes ( plated ) Skincare
Nationwide, US
https://www.RionAesthetics.com.
Ziering Medical
Hair Restoration led by Dr Craig Ziering
Beverly Hills, CA
https://zieringmedical.com/
BlueStar Innovation Partners
Healthcare Investment Firm
Dallas, TX
https://www.bluestarinnovationpartners.com
Yoon-Soo Cindy Bae, MD
Private Dermatology Practice
New York
http://www.drcindybae.com/
Rejuva Medical Aesthetics
Facial Plastic Surgery & Medspa
Beverly Hills, CA
https://www.rejuvamedical.org/
Coast Dermatology
Dermatology Practice
Laguna Beach, CA
https://www.glenngoldbergskindr.com/
Eugenie Brunner, MD
Private Cosmetic Facial Plastic Surgery Practice
Princeton, NJ
https://www.brunnermd.com/
MedBeautyLA
Aesthetic Medical Services
Los Angeles, CA
https://www.medbeautyla.com/
Pima Dermatology
Dermatology Center
Tucson, CA
http://www.pimaderm.com/
Bradley Bloom, MD
Dermatologist
New York, NY
https://www.drbradleybloom.com
ResWell
Integrative Mental Health
Pasadena, CA
https://www.ResWellHealth.com
AMERICAN SOCIETY FOR DERMATOLOGIC SURGERY (ASDS)
National Society for Dermatologic Surgery
Chicago, IL
https://asds.net
Patrick Broome, DDS
Charlotte Center for Cosmetic Dentistry
Charlotte, NC
http://destinationsmile.com
John Diaz, MD
Plastic Surgeon
Beverly Hills, CA
http://drjohndiaz.com
Sant P. Chawla, MD
Oncologist
Beverly Hills, CA
http://sarcomaoncology.com
Pediatric ENT Associates
Pediatric ENT Department at Children's Hospital of Alabama
Beverly Hills, CA
http://pediatricentassociates.com
Coronis Health
Revenue Cycle Management
National
https://www.coronishealth.com/
Spring Street Dermatology
Dermatology Practice
New York
https://springstderm.com/
Associates in Dermatology - Millburn Laser Center
Dermatology Practice
Millburn, NJ
https://www.millburnlaser.com/
Dermatology and Surgery Associates
Dermatology Practice
Bronx, NY
https://dermatologyandsurgeryassociates.com/
Scherl Dermatology
Dermatology Practice
Englewood Cliffs, NJ
https://scherlmd.com/
The Modern Plastic Surgery & Medspa
Jules Walters, MD
New Orleans, LA
https://drjuleswalters.com/
Laser & Skin Surgery Center of Pennsylvania
Dermatology Practice
Philadelphia, PA
https://laserskinsurgerypa.com/
Mink Radiology
Radiologic Imaging Center
Beverly Hills, CA
http://www.minkrad.com/
Waterfront
Dr. Douglas Wu
Vancouver, Canada
https://www.WaterfrontDerm.com
Kory Kitagawa, MD
Kitagaway Dermatology
Honolulu, HI
http://kitagawadermatology.com