Search Engine Optimization (SEO)
The goal of SEO is to rank on the top of Google search results for the keywords of your choice. For example, if you are a dermatologist in Chicago you might want to rank for keywords such as "dermatologist Chicago", "best dermatologist in Chicago", "Botox Chicago" and "Fraxel laser Chicago." Getting there cannot be done overnight, but with a comprehensive strategy it can be achieved and maintained over the long term. (Google is not the only search engine, of course, there are Yahoo, Bing, and others, but for the purpose of this article we will refer to Google as it is by FAR the most important search engine, owning over 90% of the market-share.)
Many companies offer SEO, but each has its strengths and weaknesses. Just because they were able to get a restaurant to rank on page one of Google does not mean they will be effective in ranking a doctor's website. And just because they got your friend to the top of page one last year does not mean their strategies are still effective in the ever-changing world of SEO.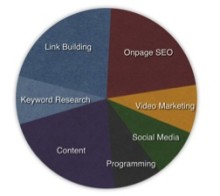 Ultimately, It's important for you to understand the basics so you can best manage your SEO vendor, have realistic expectations and ensure you are getting the results you need.
Keyword Research
Keyword research is a fundamental first step to any SEO strategy, as it helps to find what people are searching for and niche areas in the marketplace that will be easier to rank for. Once the target keywords are established, they can be utilized throughout basically every avenue of SEO.
Link Building
Most SEO companies around the world focus 100% on link building. This is a strategy where links back to your website are placed around the World Wide Web on hundreds, even thousands, of other sites. High PR domains can be bought and directories, blogs, and forums can be used to place links. In Google's eyes, the more websites that link to you, the more authoritative you seem to be, therefore, the higher you will rank in organic search results.
Link building is easy to do, the company does not need to understand your medical specialty or even speak English to be able to create links. However, Google is constantly working to find ways to see if people are trying to trick the system with an influx of links and with each algorithm update they get smarter and smarter. If they see a hundred new links generated in one week, it will set off a red flag.
So although your website might rank in one week for the keyword of your choice, once Google catches on not only will you be penalized, but you will likely rank lower than you did to begin with and it will take longer to get to the top again. Therefore, although link building is still a very important aspect of SEO, it must be done in a conservative manner to ensure everything is kosher in Google's eyes.
On-Page SEO
Other companies utilize on-page SEO to provide results to their clients. This means they focus only on making changes on the actual website, such as revising title tags, meta descriptions, adding keywords to content, utilizing headlines, interlinking pages and more. This strategy can be very effective, but if a website or web page seems 'over-optimized' in Google's eyes (i.e. has too many keywords or is trying too hard to rank for a specific keyword), again Google will penalize your website and your rankings will move in the opposite direction. So, like link building, on-page SEO must be done conservatively and strategically.
Content Generation
Another important aspect of SEO includes content generation. First, every page of your website needs to have 100% unique content – that means no, you cannot copy/paste text from a society's website or a drug company's website, everything on your site has to be written from scratch. Beyond having unique content, each page should have at least 500-1000 words. After your website is fully outfitted with educational and interesting unique content, you cannot just let it sit. Google likes to see fresh content and consistent updates to your website so they know the information is staying current.
A great way to achieve this is by including a blog on your website and posting new content there every week or at least once a month. Content can also be positioned to allow optimal link juice to flow through your website. This means there is a flow of patients from one page to the next, and with each click providing more credibility in Google's eyes.
Social Media
Social media is a more recent player in the world of SEO. Google likes to see that not only do you have likes on Facebook and followers on Google Plus, but that you are posting on a regular basis and interacting with people in a social forum. Of course since Google owns Google Plus, it is the most important social media platform for SEO, but utilizing all of them is important for the long-term success of your campaign.
Videos
When Google bought YouTube back in 2006 everyone noticed an immediate increase in the number of videos showing up in the organic search results on page one. Not only do you want to achieve this, but YouTube is also the 2nd most widely used search engine in the world. That means that yes, people are actually going onto YouTube and searching for the "Best ACL Surgeon in Los Angeles". You should consider your YouTube channel to be just as important as your website. You should have many videos on a variety of topics. Every video should also be embedded throughout your website. Ideally every page of your website will have at least one video.
Programming
Before a website is even live the foundation of an effective SEO campaign is laid. This is why it is difficult to use a company who is not knowledgeable in SEO to design, develop, and program your website. Although they might be able to provide a beautiful end product, they will leave behind a crutch that you will never be able to overcome in the future. The way the code is written, the way the sitemap is laid out, the URL hierarchy and structure and the site layout are all vital for the long-term success of a website.
To have an effective SEO campaign you must utilize every angle of SEO marketing simultaneously. It is important to know that you cannot get your website ranked overnight. If managed correctly, it will take 3-6+ months to see results from a brand new SEO campaign. Even if you leave your SEO company, if everything was done correctly your rankings should continue to improve over time.
Conversions
However, ranking on page one of Google is only the first hurdle. Once you get someone to your website, you need to be able to convert them – i.e. get them to submit an email inquiry or call the practice.
To achieve this you need to have quality, educational, interesting and well-written content. You need a strong call to action throughout the website, offering people many ways to reach out, from a fillable contact form to a phone number to an email address. If your website is too busy and complicated to navigate through, you will lose people. If your website takes too long to load, you will lose people. If your website does not portray your core values and competitive differentiation in the marketplace you will lose people.
If your on-page time in Google analytics is under 1 minute you are definitely losing people very quickly. This is why it is often said that a website is built 50% for Google and 50% for people. Google is important so people can find your site. But people are important so when they get there they convert to an actual patient!
Why Choose Goldman Marketing Group?
In the end, there are many aspects that go into an effective SEO strategy, from correctly programming the foundation of the website, to content generation, to link building, social media and video marketing. Everything works in synergy to gradually, over time increase your website's traffic, improve organic rankings on Google and bring in more new patients who found you online.
Link Building = traffic generation, link strategies, link creating, high PR domain strategies
On-page SEO = title tags, metas, headlines, keywords, text links, image text, call to action
Video Marketing = link building for keyword rankings, optimize website content
Social Media = Google Plus, Facebook, Twitter, outside blogs, forums and viral marketing
Programming = clean coding and URL structure, link architecture, sitemaps, load time, flow
Content = 100% unique, keyword rich, fresh, updated, interlinked, word count
Keyword Research = brainstorming, niche discovery, term/phrase selection
Next, learn about brand and print marketing.