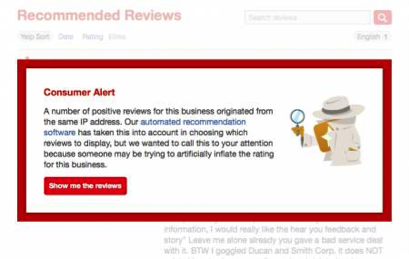 If you have been in business a few years you understand the importance of customer satisfaction. You also understand the value of reviews, particularly online reviews. You have probably seen restaurants offering free drinks/desserts once you show them a review. You have probably seen displays that offer 10% discounts if they write a review in the lobbies of doctors' offices. You have also probably been offered movie tickets and other small things to share your experience online.
If you are crazy about customer satisfaction than this principle will be easy for you to adopt.
Here are 2 things you need to do immediately:
Stop giving your clients anything to share their experience online.

Give your employees who are earning good reviews a nice bonus.
When you choose to reward the employees making you money and making your company look good, you are creating an environment that is pro-customer service. You would be surprised how much employee morale/customer service can change if a few hundred dollars are involved. A few hundred dollars spent on your employee's will likely yield you thousands in the long run.
Creating an environment that is pro-customer service:
Keep a white-board style record of all your employee's names – use stickers/gold dots or anything to visually account for that employee's exceptional customer service.

Incentivize them. Everybody loves a few extra Benjamin's each week/month, and you love getting new reviews. Win-Win!
Incentivizing Patients to write you reviews is against most websites Terms of Service:
Websites like Yelp will actively punish businesses and organizations who solicit reviews with consumer alerts. Those are guaranteed to hurt your business.

You're giving people the wrong reason to share their experience, and the words they use will reflect that. When you give people the right reason to share their experience online – you will be able to see the difference in choice of words, and amount of time they spend writing about your office.
Create office protocol that consistently provides 5-star experiences to the majority of your customers:
The best businesses are the ones that provide 5-star customers to all of their clients. Get your machine to pump out 5-star experiences and everyone will want one.

Be the business the is crazy about customer satisfaction, and your business will always be the best choice for consumers.
BIO:
Curtis Boyd is CEO/Founder of Future Solutions Media, an Online Reputation Management Company. He currently resides in Manhattan Beach, CA. He enjoys traveling, surfing and cooking.