Hosting a website for your business is standard practice today, but simply creating a website that includes your hours of operation, location, and the services you provide and hitting "publish" is not enough to ensure your business will succeed. It's also no guarantee that your site will be seen, and if it's seen, that it will be trusted and understood.
At Goldman Marketing Group, we bring together our departments of experts for every website we launch. Our team combines specialties like website programming, design, content creation, and lead generation so our clients get the best possible site for their particular medical practice's goals and needs.
Meet the Laser & Skin Surgery Center of New York
The Laser & Skin Surgery Center of New York is one of the most renowned dermatology and plastic surgery practices in New York City and the country. They are home to 17 board-certified doctors at their two locations, and their Manhattan office also contains a full-time research division.
What Their Website Used to Be
The practice's old website was both confusing to navigate and lacking vital information. It was difficult to find before and after photos, and they weren't categorized in an easy to find manner. Condition and procedure pages were sparse with information, much of it outdated. There was no clear format for pages, and it was not written with Search Engine Optimization (SEO) in mind. Overall, the website did not match the prestige, notoriety, or level of expertise of the practice's physicians. The site was incredibly outdated for a practice that remains at the cutting edge of their field.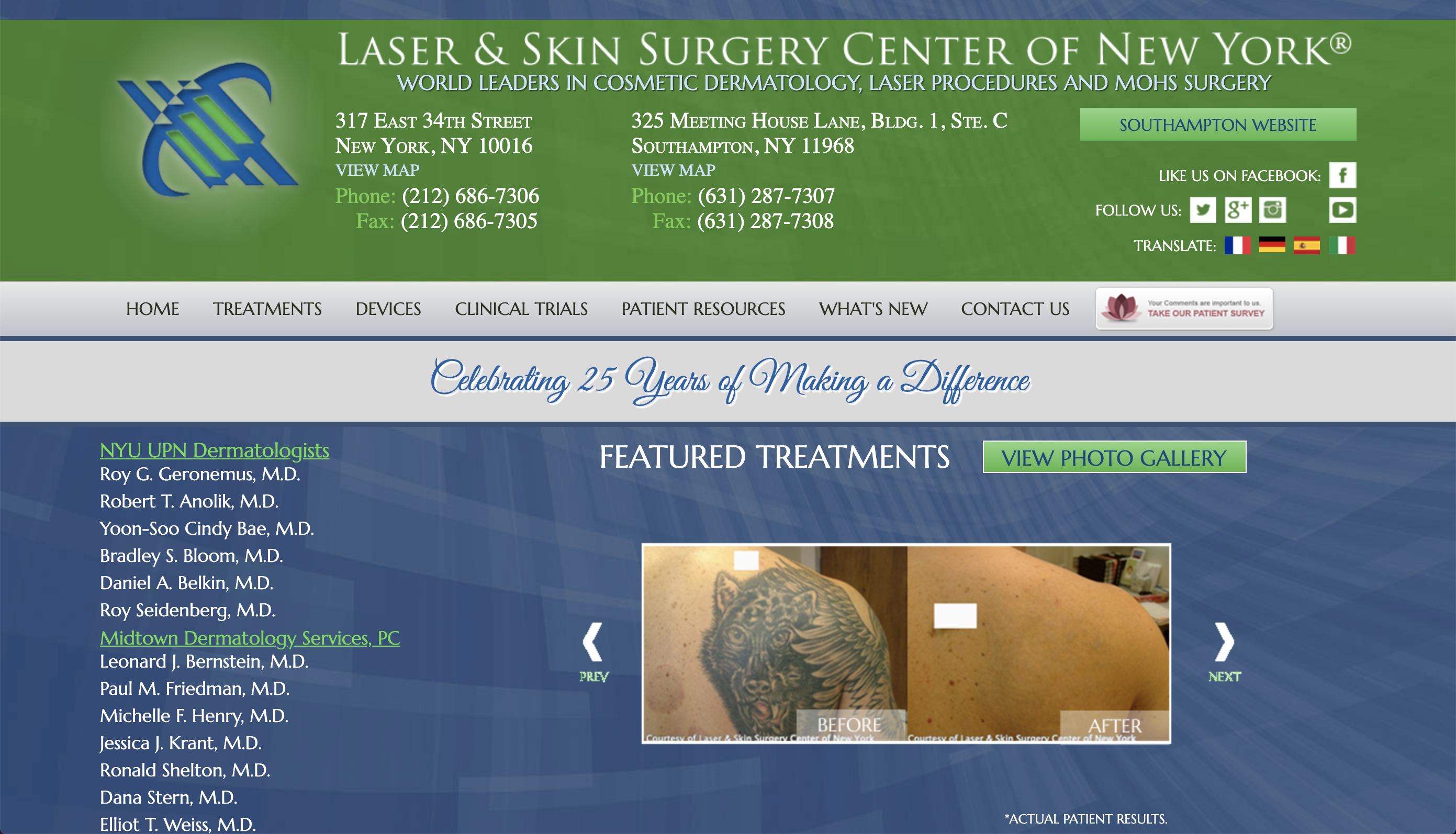 before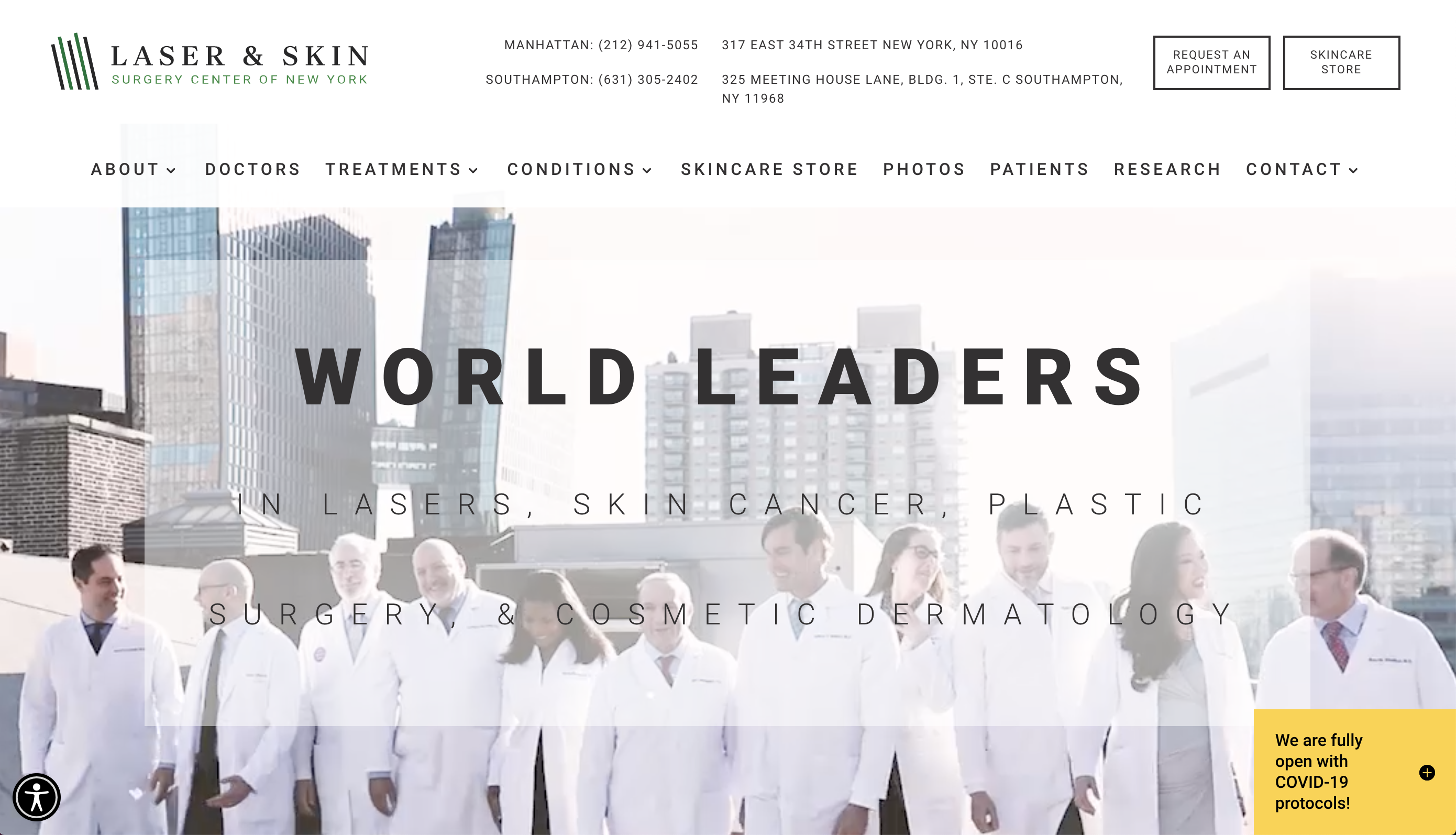 after
Our Goals for Improvement
Our goal was to make a website that was easy to navigate and rich in information and photos that would appeal to patients looking for solutions for their dermatologic issues. We wanted to have a page dedicated for every procedure used and condition treated by the practice. The site needed a robust before and after photo gallery as there was none on the previous site. We reimagined the breakdown of services entirely to make procedures and conditions easy to find. Creating a robust website that looked good would help both SEO and practice reputation.
Our Process
We met with the client to discuss what they wanted to include on their website and what features they would like to see. Our design team used the latest designs and innovations to create a wireframe site that the client could see and then leave notes. We also went over each procedure and condition page with the client to ensure that we had the proper information and photos on each page. 
Below, our department leads explain their individual processes and strategies for creating Laser & Skin Surgery Center of New York's modern, premiere site.
Programming
Andrew Cepukas Director of Web Development
Q: What was Web's role in this project?
A: Programming complex solutions and migrating old content.
Q: What was a problem on the previous site that you hoped to fix on the new site?
A: The old website was suffering from bad user experience, and a lot of outdated technologies were still being used, slowing the website down. Updating content on the website was also inconvenient.
Q: What are new tools and features you used for this site?
A: Optimization technologies and aggressive caching. This allowed us to have a lot of high-quality media like high resolution images and videos, while keeping the page speed high.
Q: What are some innovations you created for the new site?
A: Due to the clinic having two locations, we implemented a new strategy of having two separate contact pages as well as a "hybrid" contact page showcasing both locations. This was done in collaboration with our Lead Generation department to ensure search engines would properly recognize the two locations.
Design
Bart Kowalski Director of Art
Q: What was Design's role in this project?
A: The Design Department was responsible for designing the main layouts and pages of the new website. We also participated in planning and creating the new user experience.
Q: What was the biggest design improvement you made on the new site?
A:  Information structure and user interface were rebuilt from scratch. In comparison to the previous website, it's a totally new site providing a new experience. The biggest improvement is intuitive navigation.
Q: What was a process innovation you created for this new site?
A:  To improve the process we introduced a global module to our workflow. Global module is a preset element of a section that can hold the same settings, regardless of the place of use on the site. Reuse of modules saved in the library has sped up the process.
Q: What is a new style or feature you used to create a modern feel on this site?
A: Strong font and a good balance between light background and dark text created a contemporary feel on the website. Grey, white, and black are elegant, universal, and always on trend.
Content
Hunter Patterson Content Marketing Manager
Q: What was Content's role in this project?
A:  Compiling, writing, and formatting all of the content, which included over 100 procedure and treatment pages. This was done by a team of subject matter experts working with the client to ensure content matched our messaging and the latest research and treatments offered at their practice.
Q: How did you improve on the existing content?
A: A lot of the content was outdated and even more of it was unwritten and not up to our standard or SEO threshold. We took information from the client and our own knowledge base to essentially re-write and re-format every page.
Q: What was missing from the existing site that you added to the new site?
A:  Comprehensive detail on treatments and conditions. The old website was scant on details and had a lot of out of date information. On top of that, many treatments and conditions had no content at all. The new website was designed to be easy to navigate and answer questions people frequently searched for.
Q: How did your team manage writing more than 100 pieces of new content?
A:  We broke up the content among all of the team. We divided it into sections: New Content to Write, Content to Update, QAing content with input from the doctors, and finally uploading and doing a final QA with interlinking and added photos.
Lead Generation
Darren Chow Director of Lead Generation
Q: What was Lead Gen's role in this project?
A: A large chunk of technical SEO optimization foundations are actually baked into the programming and design of the website. We ensured that these practices are being followed as much as possible. This was especially important because we were going to continue optimizing the SEO on the site post-launch. Some specific technical SEO optimizations we looked into:
Ensuring every page had proper headers built

Structured data was attached

Sitemap built out

Images had metadata updated

Website speed was at a level for good user experience
Additionally, we looked into optimizing the UX and ensured we follow best practices for maximizing lead capture and conversions. This too is often baked into the design and content of the site when first built. Some specific UX optimizations we did were:
Ensuring call-to-action buttons were present and distinct

Each page served its intended function (ex: navigation, information, conversion) through word choice, image choice, and visual design

Content was digestible for both desktop & mobile users
Q: What are some new tools and innovations Lead Gen used for this site?
A: Our innovations were mostly internal. We were able to build and deploy a new, cleaner way of creating and organizing our redirects. Overall, the redirects for LSSC were about as clean as it has ever been.
Results from New Site
Bringing the website up to a modern platform has allowed us to use the best marketing tools, increasing traffic and, most importantly, leads and conversions.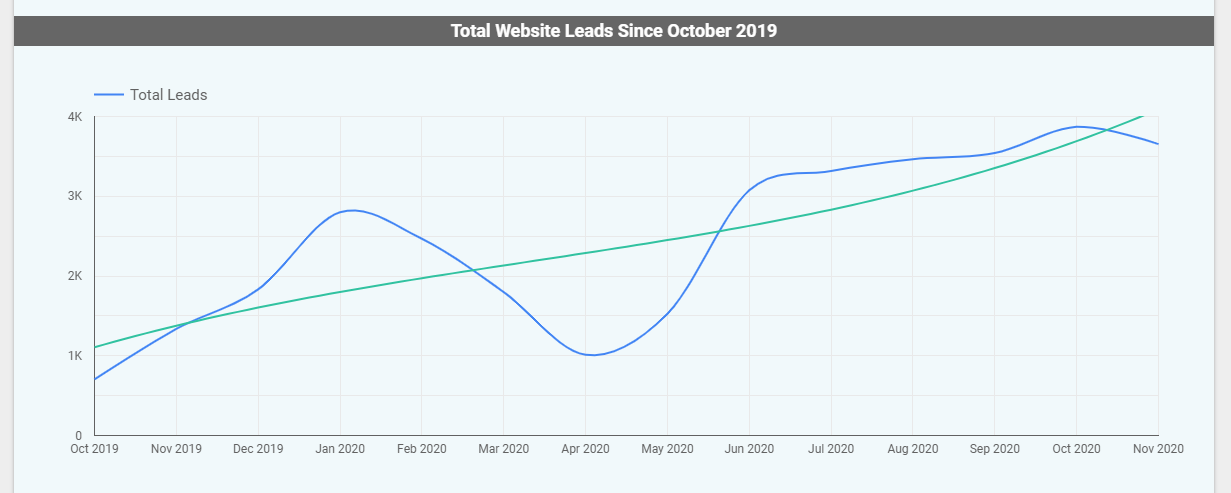 Some of the positive results are:
Sessions are up 31.9%, 

Pageviews are up 33.0%

Users are up 44.2%

New Users are up 44.0%

Bounce Rate is down -4.4%
Learn How GMG Can Create a Website to Grow Your Medical Practice
If you're ready to upgrade your website with seamless programming, modern design, accurate and digestible content, and optimized SEO, contact Goldman Marketing Group to find out how we can help.